You might think that regularly maintaining your HVAC system isn't going to impact your life, but that couldn't be further from the truth. Not only does HVAC maintenance improve the efficiency of your system and your budget, but it also extends the life of your units and reduces the likelihood of repairs during peak seasons like summer or winter. Here are some reasons why you should schedule regular HVAC maintenance.
What is HVAC?
HVAC stands for heating, ventilation, and air conditioning. HVAC systems use gas, electricity, or heat to regulate the temperature in a building and maintain adequate airflow to keep it comfortable inside. Regular maintenance of these systems is essential for efficiency and cost-effectiveness.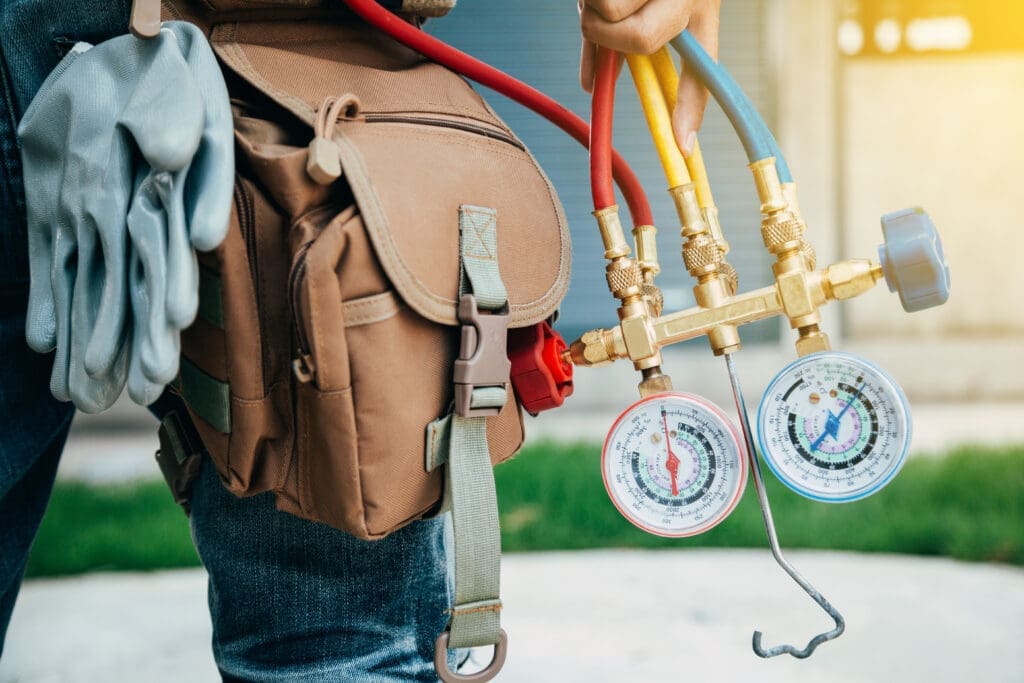 Benefits of Regular HVAC Maintenance
Fewer Repairs Needed
We all get the occasional hiccup with our heating and cooling systems, but it's been proven that regular maintenance can reduce your chances of major issues with your heating and cooling systems. While some repairs can be very costly, preventive HVAC maintenance is often less expensive than an unplanned fix – and will help ensure your HVAC system stays running for years to come.
Longer Life for HVAC Equipment
HVAC maintenance can also help to extend the life of your heating and cooling equipment. It's a good idea to have a professional do routine inspections of your system so they can recommend any necessary repairs or replacements. Having HVAC maintenance on an annual basis also ensures that your equipment lasts as long as possible, saving you money in the long run by preventing expensive repairs or replacements.
Lower Utility Bills
One of the easiest and most important things to do to save money is regularly maintaining your HVAC system. A clean system will not only run more efficiently, but the unit won't have to work as hard when it turns on, so there will be less strain put on the unit. When running efficiently, your unit will use less electricity, so you'll spend less on your monthly electric bill. It's estimated that a professionally maintained air conditioner can reduce utility bills by as much as 20%!
Improved Indoor Air Quality
You may not notice your air quality when it's great, but regular maintenance can make all the difference. Studies have shown that indoor air quality is typically much more polluted than outdoor air, and because of that, we're more likely to get sick when inside. Seasonal or short-term allergies are a telltale sign of poor indoor air quality, so if you have chronic problems like that, it might be time to invest in professional HVAC maintenance!
How to Find the Best HVAC Maintenance Service
Finding the best HVAC maintenance service can be difficult. So, it's good to understand what qualities make up a good HVAC company before shopping around. To find the best service, here are some tips to help you find an HVAC maintenance contractor that can provide an outstanding service for your heating and cooling equipment.
Ask for Recommendations From Family and Friends
Talk to your friends and family about their experiences with maintenance services. Ask them which types of preventive care work for them, what issues have come up due to neglecting maintenance, and who they trust to maintain their systems. All the information you gather will help you make an informed decision about HVAC maintenance for your home and who to hire for your heating and cooling systems.
Search the Internet and Check for Reviews
When looking for a good HVAC maintenance contractor, you can also search the internet to see what other people think of them. In Google, you can type "HVAC maintenance near me" and a lot of local HVAC companies will show up for you to choose from. You may be able to find reviews on social media sites such as Yelp or Google Reviews. By reading these reviews, you'll get an idea of how good their customer service is and if they're responsive in addressing customer complaints. Some review sites will even allow customers to post pictures of contractors' work, giving you an idea of the quality they provide.
Choose Local HVAC Companies With Proven Experience
Choosing a local HVAC contractor with years of experience will ensure your HVAC system will be maintained correctly. Professionals in the industry have extensive knowledge and can help diagnose any problems with your HVAC system. Local heating and cooling companies have licensed technician who knows how to ensure your system is running smoothly by performing routine checks and maintenance.
Ensure Your Technicians are Certified and Insured
You also need to ensure your HVAC technicians are certified and insured. Doing so gives you peace of mind knowing that any HVAC issues can be fixed without worrying about being on the hook for anything that goes wrong. Certified technicians will know what needs to be done if they are trained in all aspects of your unit's make and model.
Get Your Regular HVAC Maintenance With Crandall's Plumbing – Heating & AC
For 13 years, Crandall's Plumbing – Heating & AC has been providing quality air conditioning and heating services to homeowners and businesses throughout the Huntington Beach area. We take pride in giving our customers reliable solutions that are affordable and provide their families with comfortable, healthy homes. HVAC maintenance is essential for protecting your system from damage so it will function efficiently for many years. We offer expert HVAC maintenance for businesses and homes. Contact us today to schedule a consultation with Crandall's Plumbing-Heating & AC!