Did you know?
By keeping your thermostat at 78° during the day when you are not home, it will help keep your electric bill lower? It's common that customers only "turn on" their AC system when they first arrive at the end of the day. By this point, the house temp is about 85° and above. This will cause the furniture and everything else in the home to become heat soaked. When you first turn on the AC system, everything that is heat soaked will attract the cold air first before it can start to cool the air around you, known as ambient air. During this time the electrical rates are at their highest because it's during "peak hours." So… try it for a month. Keep your thermostat programmed for 78° during the day and compare your electrical bill from the same time last year.
Did you know?
Another common problem we find is when customers first get home they lower the thermostat down to the 65°. Lowering your thermostat DOES NOT make the air any colder. It translates to your AC system running non-stop until it reaches the lowered temp you set it to. This could cause the unit to ice if the filter is plugged because of lack of service. If so, your unit will ice and eventually turn off and possibly damage the outdoor unit. We've seen a lot of service calls like this.
Did you know?
When you first turn on your heater during the winter season, the unit runs for a few minutes then turns off. About 15 minutes pass and then it runs again and turns off again. Why? We commonly find that the system has not been properly serviced before the winter season starts. Usually a lack of service causes these problems. After performing our service on the heating system, the unit operates efficiently without any further issues throughout the winter and helps to save on your gas bill.
Did you know?
Having your home properly serviced throughout the year is "cheap insurance" against having problems down the road. Normally you should have it serviced once before the winter season and again before the summer. This WILL prevent a lot of service calls when you least expect it. Everyone understands to have their car serviced on a regular basis to prevent breakdowns and costly repair bills. The same applies with your heating & air conditioning systems. Your system is a mechanical piece of equipment and scheduling preventative maintenance service on a regular basis will help the system last well into the future.
All the above items are covered when you sign up for our membership program. Become a member of the "Crandall's Friends & Family Program" and ensure your heating & air conditioning works efficiently and trouble free for years to come.
CONSTRUCTION/TI/NEW BUILDS
Professional contract plumbing, exemplary customer service and quality work guaranteed. Operating with a fleet of trucks to provide prompt service. We have been serving Orange County and S. Los Angeles County since 2006, focusing on providing quality service with fair pricing. We are ready bid any job, please email as-builds or plans to [email protected] and for Service Jobs please call or text (714) 465-7819.
An effective tool for both residential and commercial applications. This powerful machine will clear blockages such as roots and will clean pipes of grease and debris which collects over time. Call us at (714) 465-7819 for an on-site estimate or job walk and see if hydro-jetting is right for you.
Your water heater is an essential appliance in the home, yet it is often neglected. All water heaters require maintenance/ flushing your water heater or tankless water heater at least once per year to maintain efficiency and extend the life. We install commercial, industrial, residential, and tank-less water heaters of any size. If you would like we can set, you up for a annual reminder. Our dispatch team will call you every year when it's time to flush your water heater or tankless water heater. Just set and forget, we will handle the rest. For more information, please call or text (714) 465-7819 and our team would be happy to help you.
Most of us take for granted the pipes that make up our plumbing system in our home or business. Usually when an issue occurs it needs to be remedied quickly. Crandall's Plumbing will respond quickly and efficiently so that you can get back to the more pleasant things in life. 
Quite often when we plan to remodel our homes, it's finally time to get our dream bathroom or kitchen but we forget the plumbing that is out of sight. Drain lines are commonly overlooked during this process and can be a grim reminder when they back up and flood our new bathroom or kitchen. Taking one easy step before we plan these big projects would eliminate these backups.
Performing a camera inspection beforehand of the drain lines we show you the current condition and allow you to budget for replacing them, this will take care of future back ups that will flood your beautiful new bathroom or kitchen. To learn more about this and benefits please call or text (714) 465-7819.

I wanted to start a multi-service company that provides the highest quality professional service. Starting from humble beginnings has taught me the value of excellent customer service. I value the opinions & concerns of each customer and continue to strive to earn their loyalty. My team is experienced, courteous and dependable. We guarantee that you will be completely satisfied with our work.
Every encounter with Crandall's, including booking the appointment, has been a great experience.
- Patty H.
What a great experience! Showed up exactly on time, in and out within thirty minutes, nice/knowledgeable plumber
- Elizabeth M.
Five stars company! Highly recommend them.
- Susana M.
We offer you quality plumbing services for affordable prices 24-hours, 7-days a week!
Established in 2009 in Huntington Beach, CA. We are an owner-operated, licensed, bonded & insured, plumbing and HVAC corporation. Our Service Division offers residential/commercial plumbing & HVAC with a fleet of trucks servicing Orange, Los Angeles, Riverside & San Bernardino counties. Our Construction Division provides commercial/industrial plumbing & HVAC services throughout California. CSLB # 927449 / CSLB # 776028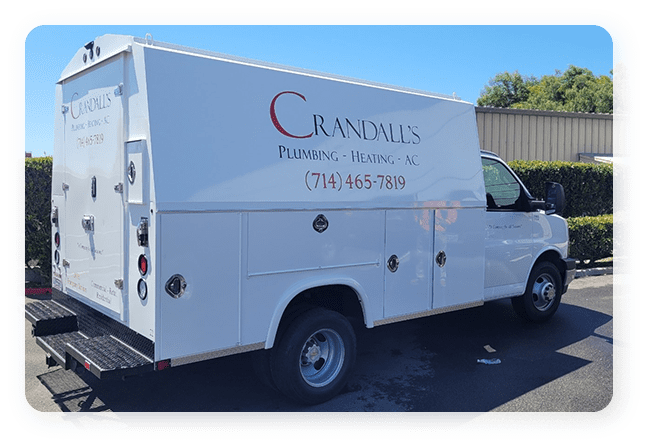 Featured video and gallery